Auto Insurance and Car Insurance in Salisbury, Mooresville, Concord,  Huntersville, Kannapolis, Davidson, NC, and the Surrounding Areas
Auto insurance is mandatory in North Carolina, and every car insurance policy must cover bodily injury liability, property damage liability, and uninsured or underinsured motorists.
But is that enough? Unfortunately, we've found that many motorists don't have adequate insurance and struggle to recover financially from a devastating car accident.  At Central Carolina Insurance Agency, we serve residents of Huntersville, Davidson, Salisbury, Concord, Mooresville, Kannapolis, NC, and surrounding communities. Call us today!
Get A Quote
Car Insurance
Auto insurance covers not only cars but can also include personal watercraft insurance, truck insurance, RV insurance, and boat insurance. If a vehicle moves, it requires coverage to protect it from the many risks on the road and in the water.
In addition to traditional car insurance policies, our team at Central Carolina Insurance Agency offers various add-ons to give you additional peace of mind. Some of our most popular offerings include:
Roadside coverage to cover the cost of most roadside services
Medical expenses coverage to cover your (or your passengers') medical expenses after an accident
Collision coverage to cover the costs of car damage after an accident
Rental reimbursement coverage to cover the cost of renting a car or finding alternate transportation while the shop repairs your car
Every person's situation is unique, so we strongly recommend a personalized insurance plan. We can help you find the insurance options that best suit your needs while staying within your budget. There are several options, including agreed value vs. actual cash value , accident forgiveness, and a choice between repair & replacement.
Umbrella Insurance
An umbrella policy extends the limits of your standard auto insurance policy by covering losses that are greater than your preset limits or that require liability or legal protection. This extra layer of coverage can provide you with extra peace of mind while driving or boating. If you get into a car accident that causes catastrophic damage or leaves you vulnerable to liability or legal issues, your standard insurance policy might not cover it.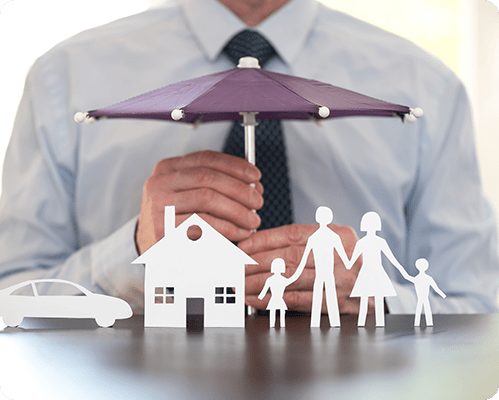 Frequently Asked Questions about Auto Insurance
Auto Insurance options include:
Auto
Motorcycle
Boats
Personal watercraft
RV's
ATV's / Off-road vehicles
Trailers
Classic Cars